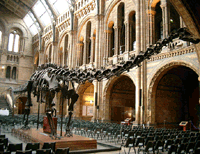 Natural History Museum
Address: Cromwell Road, London SW7 5BD, UK
Tel: +44 (0)20 7942 5000
Opening Hours: Monday to Sunday 10:00 - 17:50

With just over 70 million specimens, from insects to mammoth skeletons, the Natural History Museum is one of London's largest museums and home to one of the most important natural collections anywhere in the world.

The Natural History Museum was opened to the public for the first time in the 1880s; its origins however can be dated back to the previous century when Sir Han Sloane left his personal collection to the nation.


Originally part of the collection that formed a section of the British Museum, it was deemed that a separate museum was required to have its own premises to display over 80,000 of Sloane's pieces. The spot was chosen in South Kensington and the building made in the German Romanesque style.

By the start of the 1880's the building had been completed and the mineralology and natural history collections were placed for viewing in their new home. The collections were officially declared a museum of their own accord in 1963.

Despite containing such a large collection, the museum also entails the world's most important natural history library. This consists of, amongst other things, books, sketches, original drawings, paintings, prints and ancient maps.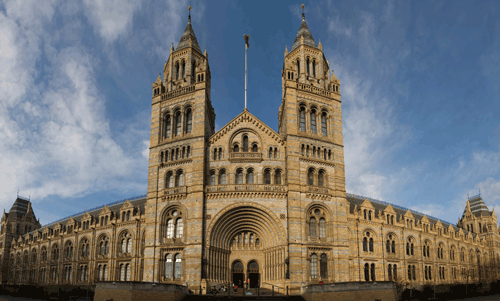 For further information visit our South Kensington London Guide