Home > Outside of London> Hampton Court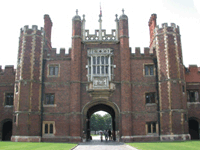 Hampton Court
Hampton Court Palace was Henry VIII's royal palace and is situated on the River Thames. For almost 200 years, Hampton Court Palace was at the centre of court life, politics and national history.

Discover the magnificent State Apartments of Henry VIII and William III, explore 60 acres of immaculate riverside gardens and lose yourself in the world-famous maze.

The actual palace was built in Henry VIII's reign in 1514 when Cardinal Wolsey, then Archbishop of York commissioned the construction of a new country residence. He wanted a home that would reflect his power and authority. Needless to say Hampton Court was so immense that many believe Henry became jealous that his royal residence in London did not match that of the Cardinals and so it wasn't long before Hampton Court fell into the hands of the king. Today Hampton Court attracts tourists from all over and is a wonderful day out for all.