Home > London Guide > London Neighbourhoods Guide > Guide to the West End, London


West End Information Guide
The London Guide takes an insighful look at London's West End, the entertainment district at the heart of central London packed full of restaurants, theatres and nightlife all year round.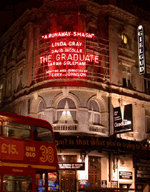 Overview


London's West End is the entertainment district of the capital, focusing on the areas around Leicester Square and Covent Garden and expanding out to the shopping districts centred on Oxford Street, Regent Street, and Bond Street.

Shopping in the West End takes place in the vicinity of Oxford Circus- Oxford, Regent and Bond Street. The area is lively throughout with London shopping institutions such as Selfridges and Liberty mixed with all the large international retailers. The area is also the focus point for the annual London Christmas lights, lit in November of each year.

Most of London's large array of theatres are also found in the West End. "Theatreland" is the name given to the area around Shaftesbury Avenue out towards the Strand, one of the world's most prominent theatre scenes. Packed full of musicals, comedies, dramas and plays, the West End is constantly leading the way in entertainment.

The West End is also a big setting for London's nightlife, with areas like Leicester Square and Covent Garden full of street entertainers and musicians along with a huge range of clubs, bars and late night opening restaurants.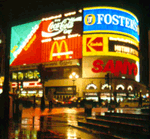 Local Sights


Notable sights in the West End vicinity include Trafalgar Square, the setting of London celebrations; Piccadilly Circus and Leicester Square, the setting for London's movie premiers and celebrity, as well as Covent Garden with its year round market and indoor shops.


London Guide Hints & Tips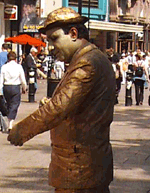 London has one of the world's largest theatre scenes, with hundreds of shows on at any one time. If you want to see one of the latest shows to open then be prepared to book months in advance or pay extra for the privelege. Some of London's more established shows offer discounted tickets- a good time to see a performance is in midweek or for a matinee show to get the best prices.

To see what shows are on see London Theatre


Main Tube Stations




Oxford Circus, Piccadilly Circus,
Leicester Square, Covent Garden



See also West End Hotels and West End Restaurants.