The Southbank and Southwark Information Guide
The London Guide looks at the Southbank, an area just south of the River Thames in central London and the vicinity of Southwark, leading up to London Bridge.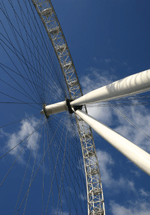 Overview


The Southbank is an area on the southern bank of London's Thames River, focusing on the vicinty surrounding Waterloo Station, one of the capital's principal train stations with links to the rest of England and Europe.

The area is home to a number of important cultural buildings and institutions such as the Royal Festival Hall, County Hall and the Tate Modern Art Gallery.

In recent years the Southbank has become an unofficial location for British skateboarders, making the most of the banks and stairs as well as the open squares and gardens to the south of the Thames. Joining them throughout the day and into the evening are a vast array of street entertainers, including comedians, musicians and novelty acts, all of whom come together to give the Southbank a quirky and jubilant feel.

The area of Southwark contains a truly eclectic mix, with treasures such as Shakespeare's Globe Theatre and London's largest open food market, Borough Market.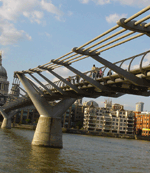 Local Sights


Notable sights in the Southbank and Southwark vicinity include the London Eye, the millennium observatory wheel for the best views of London; the Tate Modern Gallery for afficionados of modern art and the Royal Festival Hall for various shows and concerts during the year.


London Guide Hints & Tips


London Eye rides are very popular all year round and advanced booking is especially recommended on weekends and school holidays. One of the best times to ride is late at night as London lights up- the last ride takes place from 9:30pm to 10:00pm.


Main Tube Stations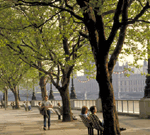 Waterloo, Southwark, London Bridge



See also Southbank and Southwark Hotels
and Southbank and Southwark Restaurants.