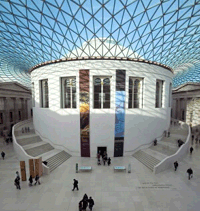 British Museum
Address: Great Russell Street, London, WC1B 3DG, UK
Tel: +44 (0)20 7323 8000
Opening Hours: Monday to Sunday 10:00 - 17:30
Late Nights on Thursday and Friday until 20:30
Nearest Tube: Tottenham Court Rd (Central or Northern Lines) approx. 300m or Holborn (Central or Piccadilly Lines) approx. 500m

Widely acknowledged as one of the greatest museums in the world, the British Museum is a museum dedicated to humanity and human culture. Spanning every continent in the world, the collection contains over 7 million objects, documenting human existence from its earliest days to the present.

Founded in 1753, the British museum was the first national public museum in the world. Its origins lie in the collection built up by the physician and collector, Sir Hans Sloane. Sloane's will left a vast collection of over 70,000 objects which were used to establish the museum by an Act of Parliament dated 1753, opening its doors to the public for the first time in 1759.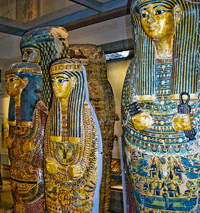 In keeping with its origins, the museum does not charge an entree fee. Indeed the museum has always been open to "all studious and curious persons".

The collection at the British Museum covers all civilisations: Greek and Roman, the Middle East, Asia, Africa, Oceania and the Americas. Nevertheless it is the Egyptian collection which has always attracted the greatest interest: the British Museum houses the world's largest and most comprehensive collection of Egyptian antiquities outside the Egyptian Museum in Cairo.

Notable highlights include the Rosetta Stone, the ancient egyptian artefact which was instrumental in the decyphering of egyptian hieroglyphic writings, and the Elgin Marbles, the collection of classical greek marble sculptures that originally formed part of the Parthenon.

Today the British Museum continues at the forefront of human advancement. With the exception of the two World Wars, the museum has been open since the 18th century and now attracts over 6 million visitors a year.